ISTANBUL (Oct. 23) — After catching up on some shut eye, we started our day with Serkan taking us to the Blue Mosque and Hagia Sophia. Both were beautiful with their elaborate interior designs and their unique histories. A note to fellow "germaphobes": if you find being barefoot in public problematic, then we highly suggest you bring a pair of socks for the Blue Mosque, as shoes are not to be worn inside.
After exploring much of the Old City, we crossed over to the New City where we ventured around the Pera area. The streets were filled with a bustling crowd as most locals do their shopping and enjoy the nightlife in the new section. This lively atmosphere differentiated itself from the more touristy side of the Old City.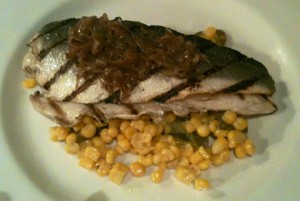 While in Pera, we ate a lovely lunch where dishes that are more commonly associated with Turkish cuisine were served along- side more fusion style meals. For starters we enjoyed moussaka (mini eggplants stuffed with minced meat) and mücver (a zucchini pancake served with yogurt dill sauce). For entrees we ordered grilled sea bass with caramelized onions and sweet corn, grilled beef tenderloin with potato gratin and a demi-glace, and boneless lamb chops with couscous and homemade harissa.
Along with the great meal we drank the freshest and most organic lemonade we have ever had. Packed with a lemony punch, this drink is probably not for those who would rather not pucker; however I found it refreshing. What made the meal all the better was the fact that it was prepared by those driving the culinary future of Istanbul; and our taste buds are happy to report that the future is looking very bright.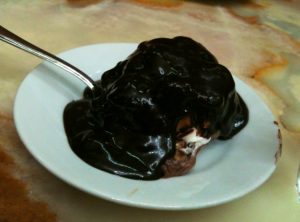 An hour and a half later, despite having declared that we were beyond full after lunch, we managed to find some room for dessert. Serkan took us to a profiterole master, so we knew right away that our "sweet teeth" were in good hands. These profiteroles differed from those customarily found in U.S. restaurants in that they were filled with a more pudding like center rather than ice cream. But, as they say change can be good, especially when the flaky crust is  delicious and most importantly, it is drenched in chocolate.
After further wandering around Pera, we headed to meet Mustafa for dinner. For a slightly different flair, Mustafa took us to a dinner show to watch belly dancing and Turkish folk music and dancing. One of us had a few laughs mostly at the expense of the other (and yes, maybe there is some bitterness included in this statement).
(Photo Gallery from lunch)
[nggallery id=1]
After a long night, we went back to the hotel to recharge for day three.
Links:
Tour posts, in chronological order:  1  … 2 … 3  …  4 … 5 … 6 … 7 … 8 … 9
Upcoming (Our Itinerary)