Who We Are
Those who work at Epicurean Travel understand that one of life's greatest pleasures is sitting around the table with good food, good wine and good friends. We think this truth transcends cultures and geographical borders. We love what we do; we'll love doing it with you.
Customer Service and Exceptional Trips Make Us Who We Are
Marla Persky, Founder and CEO
Marla brings to the company more than 20 years of executive management experience and 30 years of international travel  … not to mention over 50 years of immensely enjoying friends, food and libations. She's mastered the art of modifying beloved meals from her travels with local ingredients.
Two of Marla's favorite things are eating and traveling, which led her to think about some of her favorite trips which had memorable meals … so why not combine the two? Hence … E-T. This picture is of our founder and CEO, Marla, on a rainy afternoon in Shanghai, China.
Ariel, Director of Marketing 
Ariel is from Saint Petersburg, Fla. When home, she loves spending time with her family and exploring all the hidden gems Saint Petersburg has to offer. While traveling abroad, she enjoys going off the beaten path and testing out the local favorites. Ariel finds the best places to shop for special gifts, unique mementos and treasures. She shares these secrets with you and has created shopping expeditions for Epicurean Travel adventures.Ariel adores eating and has a sophisticated palate, however her food preparation skills remain, shall we say …. underdeveloped. Since she is the head of marketing and media outreach for Epicurean Travel, rather than in the kitchen, that works out just fine.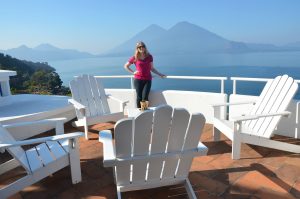 Samantha, Director of Research
Samantha has inherited her mother Marla's good taste in all things, and then modified it to suit herself. Samantha is a spice merchant. She knows more about choosing and using spices than anyone we know. She attended university in Scotland, studying history, and has traveled and eaten extensively with her family and on her own. She has worked in the curatorial departments of several small historical museums and is refining the art of creating delicious meals from whatever is at hand or in the refrigerator. "Sam" is E-T's head of research and lead lecturer on the intersection of history, culture and food for our travel destinations.
Pictured: Ariel and Samantha share a meal in New York City.
Jeff, Director of Technology
Jeff is our technology guru. He has more than 20 years experience as a journalist and in running websites large and small. He wrote a book in 2006 about traveling overseas for medical care, cosmetic surgery and dentistry. It was less boring than you might think.
He claims to be able to cook but the rest of us have never put him to the test. This is a picture of Jeff at the Hagia Sophia, 2013.
Travel Partners
We have also partnered with great people around the world to ensure the perfect Epicurean Travel experience. Please see our Travel Partners page for details