ON THE ROAD, Guatemala — Today, we witnessed again how Guatemalan food and history are intertwined. From religious ceremonies to the economy, food has played a rich role through Guatemala.
We left Antigua after a lovely café con leche in the Parque Centrale and began the drive to see the Mayan ruins at Ixmche.  We drove through small towns definitely not on any tourist map.  In fact, one town, Pastores, is known for its western style boot making (called Boots Orientale).  It is rumored that George Bush Sr. came here for his boots because the craftsmanship (and cost) is better than in Texas … not sure about whether that is true, but it does make for interesting gossip.  The leather works were really interesting – everything made by hand from cow's leather.  They can fashion the cow's hide to look like anything – crocodile, pig skin, etc.  No cowboy (Gaucho) boots were on our agenda as we need rubber sole and fleecy inserts to navigate the snow and ice of the Northeast.
We stopped for a typical Guatemalan breakfast at a roadside restaurant that is frequented by the locals.  Excellent food – fried eggs with a fresh chirmol and a sauce of cream, garlic and green chilies.  Fried plantains, black refried beans, fresh cheese and chorizo finished off the plate.  The corn tortillas were made right next to our table by the loving hands of a mother/daughter team and the freshly squeezed orange juice was to die for.
Here are two fun facts:  First, cacao was originally only used in religious ceremonies – it was very bitter and used by the Mayan priests as offerings to the gods.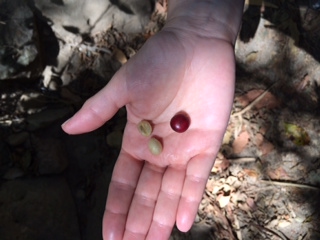 Cacao is grown primarily along the Pacific coastal regions and the various Mayan tribes used the beans (as well as those of the coffee plants which are grown in the more mountainous regions) as currency.  In fact, most of the trading and commerce in the Mayan territory was of various foodstuffs.
Second, some of the world's best coffee beans are grown and harvested in Guatemala, but are exported for processing – Daniel explained that although coffee and cacao beans in Guatemala are of excellent quality, the country lacks the expertise and facilities to properly process these beans into high quality coffee (most beans are sent to Italy and the U.S.) or chocolate (most of the beans are exported to Switzerland).  From an economic standpoint, this really puts Guatemala at a disadvantage since the real markup is on the finished products.
Our next blog will discuss the Mayan ceremony at Iximche and the Guatemalan black bass dinner we learned to prepare.