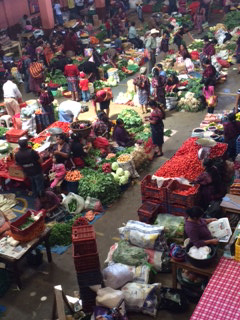 XELA, Guatemala — We have visited several Guatemala food markets during our stay, including a huge vegetable market in Xela (see our next blog post for more info on Xela in general) and the Thursday market in Chichicastenango ("Chichi").  Both were teaming with huge colorful fruits and vegetables, but each was a bit different.
The Xela market was totally dedicated to foodstuffs, where Chichi has a huge textile market with a lovely food market nestled in the middle.  The Chichi market is a bit overwhelming – in some ways reminded us of the Grand Bazaar in Istanbul with colorful wares of all varieties and aggressive vendors.  What struck us about both markets, however, was the size of the vegetables.
Just look at the size of this carrot and these cabbages.
And the radishes were dazzling: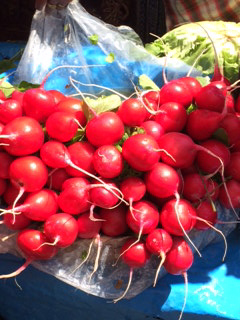 The fish market in both Chichi and Xela had primarily dried fish, but these shrimp (camarones) were freshly caught that morning in the Pacific.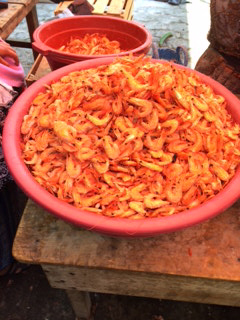 The beans came in every color and variety – mostly dried.  Hot peppers and spices were everywhere.
We bought the fruits and vegetables that we needed for lunch in Chichi and returned to the house and made an amazing salad accompanied by black beans and rice and queso fresco (fresh cheese) which was served with a simple balsamic dressing with garlic and rosemary.  The lighter lunch was just what we needed after the previous night's tamales.  All in all – we have enjoyed every mouthful and eyeful of Guatemala.