It has been awhile since Ariel and I returned from Turkey, but this shall not prevent us from bringing some of Turkey to our tables. After having received lessons in the kitchen of the Ephesus Boutique Hotel, it was time to brave the art of Turkish cuisine on my own. The safety net was gone, and no longer was there anyone to watch over my shoulder like a fairy godparent of the kitchen. What could possibly go wrong? Well…many things, but let us not dwell on such a dismal thought.
I decided to try a recipe that was not taught to me while in Turkey in order to sample something new. I figured starting with a good soup would be a sensible way to ease myself into my solo cooking endeavors. A recipe for "Peasant Soup" or "Koylü Çorbasi" with chicken, carrots, parsnips, turnips, potatoes, leeks, onions, fresh parsley and celery root caught my eye.
Despite my "developing" (to put it gently) chopping skills, which added a good chunk of time to total prep time, the soup was easy and not overly time consuming. Perhaps someday I will be able to rival a hibachi chef, but for now I will just call my cutting technique a work in progress. Things went smoothly at the stove. Other than some soup boiling over, the kitchen remained standing and I walked out unscathed!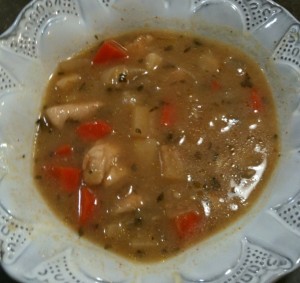 After successfully cooking the soup, only one step remained, tasting, and hopefully enjoying the final product. After taking a deep breath, I brought a spoonful to my mouth and…SUCCESS! The soup had a pleasant earthy flavor as a result of the root vegetables, and provided hearty comfort. I used celery root which I felt added a nice note, but celery stalk can be used in its place for a more subtle celeriac taste.
There is nothing quite like a bowl of good hot soup on a chilly fall/winter night. I will certainly keep this recipe in my collection to use again. So all-in-all, a very encouraging start. Hopefully, it is simply a sign of good food to come.  = )