Sun, Sea and History
Today was a perfect day along the Costa Brava in Spain where our merry band of Epicurean Travelers visited the charming Medieval town of Pals that is a labyrinth of cobble streets lined by original 13th century buildings surrounded by beautiful agricultural fields of rice and wheat.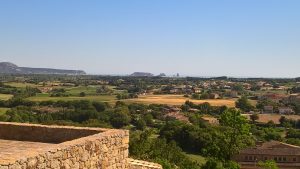 Strolling leisurely through historic and picturesque streets, however, was only the beginning of our day…next it was onward for a lovely sail along the Cap de Begur with our captain Eric, a civil engineer who takes friends out for a picnic on his boat overlooking the rocky cliffs and sandy shores of the Costa Brava. No matter where you look, the sights were fine!