Custom Culinary and Cultural Adventures
WP Google Maps Error
In order for your map to display, please make sure you insert your Google Maps JavaScript API key in the Maps->Settings->Advanced tab.
Welcome to Epicurean Travel. We specialize in travel itineraries and custom culinary adventures that allow travelers to discover the intersection of historical, cultural, and culinary heritages of international and U.S. destinations.
Trips Designed Just for You
In addition to our regularly scheduled tours, we offer custom tour planning and management to our chosen destinations for small groups. If you can not join us on our regularly scheduled trips, we can make sure you and your small group of friends and family have a perfect Epicurean Travel experience during a time you choose. Please contact us to begin making arrangements.
We are in the process of scheduling new tours. Please click here to see what is coming up!
You can find out more on who we are at About Us.
Custom Culinary Adventures Being Planned
A Culinary Tour of Turkey
We officially became a company in January 2012, and we are pleased to meet you. Our first tour event, for a limited and exclusive clientele, ran from April 20 — May 1, 2013, a 10-day cultural and culinary tour of Turkey. We are still posting extensively about that trip on a regular basis.
Our staff blogs about our excursions as they travel for research (and pleasure.) The trip Samantha and Ariel took to Turkey in October 2012 will give you good insight into what to expect when you travel with us.
Day 1: Touring and Feasting in Istanbul
Day 2: From Old City to New: Pera, Profiteroles and More
Day 3: Wonders of the World and Great Food
(Archive)
Yes, the kind of experience we intend to provide requires extensive advanced planning. We are sure you would not have it any other way.
Pictured above, right, is the Ephesus Boutique Hotel, a partner of ours in Turkey. Yes, it's as nice as it looks. We're posting comprehensive tour information as it becomes available; we want, from the start, to give you an idea of the kinds of destinations we choose. Our current Turkish tour includes four full days at the Ephesus Boutique Hotel, located in the rural village of Kiralzi.
The cuisine, derived from the bounty of centuries-old local organic farms, is extraordinary, and complements guided visits to the historic sites of the region: Ephesus, St. John's Basilica, the Ephesus Museum, the House of the Virgin Mary, the Cave of Zeus … and the Temple of Artemis, one of the Seven Wonders of the ancient world.
The rest of our tour is hand-picked from among our own experiences of Turkish culture and cuisine. Please stop back soon or subscribe to our site (top right of any page) to be kept informed of tour information as we continue to update.
The location of the Ephesus Boutique Hotel:
Experience Guatemala
Our 8-day Guatemalan journey is perfect for an extended family (all generations welcomed) or a group of friends. Most nights are spent at a lovely house with five rooms on Lake Atitlan (sleeps 10 very comfortably), although a first night stop in the UNESCO heritage sight of Antigua is the perfect way to get acclimated to the sights and aromas that are unique to Guatemala.
Day One: Guatemala City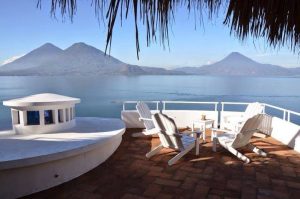 Day Two: Kakchiquel Mayan ruins at Iximiche, Lake Atitlan
Day Three: Enjoy a day by private boat on Lake Atitlan.
Days Four, Five and Six: Visit nearby towns and cities (Chichi, Xela, Panajachel) to   tour markets, visit nature preserves, shop and sample local cuisine.
Day Seven: Visit a nearby village and enjoy a gourmet picnic  prepared by Angela.
Day Eight: After a hearty breakfast at the Casa, depart for the airport at Guatemala City.
Portugal — One Beautiful Country, Two Journeys

We are thrilled to offer you two different travel options in Portugal.  It may be a small country, but there is so much to do and see, we can  not fit it all into one excursion.  So you can choose – the Southern Route taking you through the Alentejo and the Algarve, or the  Northern Route taking you through and up the coast to Porto and the Douro Valley.  Both are wonderful, and for those who have the time,  we can combine our two trips into a special 15-day once in a lifetime experience.  You can find out more about our two wonderful Portugal trips here.
Other European trips for Cooks & Gourmets
Brought to you by our travel partner CHEVIAGGI
Ticino – the Italian part of Switzerland
Covering less than one hundred miles, Ticino varies from granitic pre-alpine valleys to Tuscany-like cypress-lined hills. Its cuisine  ranges from rustic polenta cooked on the open fires to delicate fish caught in local lakes. Ticino is my home. Let me introduce you to the beauty of the area. You will learn intimate secrets of this area. We visit places no tourist will discover, we taste (and cook!) typical cuisine and visit artists, museums and wine cellars. The Ticinese are easy going and so is the rhythm of this seven day trip.
"Through our travel partner, Cheviaggi you can experience some    truly hidden treasures…take the road less traveled, you won't be disappointed." – Marla

Catalonia – Spain, but Totally Different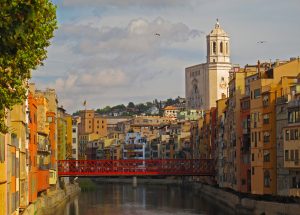 The Catalan people are a truly particular breed: hard working yet creative, fair haired though Spanish (well, sort of), cheerful but temperamental – they mirror the land they call home. This travel adventure unlocks the mysteries of Catalonia – the land, the sea, the clear sky, the wind and its scents, and the climate. The history also heavily influences the region – many different conquerors have all played a role in the Catalonia of today. Catalonia has given the world artists like Mirò and Dali; the architect Gaudi with his never finished Cathedral of Sagrada Familia ("My client is in no hurry…"); and musicians like Carreras, Mentserrat-Caballe and Pablo Casals. On our culinary front, Ferran Adrià, the inventor of molecular cuisine, comes from Catalonia. In fact, we enjoy some of the most delicious food you will ever taste! We see splendid Barcelona, sail up the coast near Rosas, stay in old country manors as well as boutique hotels perched above the Mediterranean. All at a relaxed pace that gives you time to savor what you are experiencing on this eight day holiday.
Umbria – Home of the Etruscans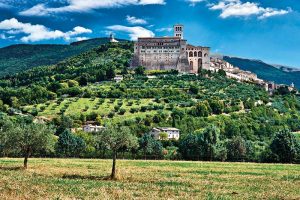 The only province of Italy without a coastline or a boarder with a foreign country is, therefore, a little less known and less overrun than her sister, Tuscany. Umbria has the rolling hills of Tuscany covered in olives and grapes, medieval villages with spectacular views perched atop hills, and charming towns filled with culture. This is where the mysterious Etruscans lived when the Romans crossed the Tiber bringing sculptures and man-made wonders that we will see….. such as the bronze statue of the Germanicus in Amelia, the world's largest artificial Marmore Water-Falls, the beautiful basilica of St. Francis in Assisi and the dome of Orvieto. Oh, and let us not forget the food… an epicurean's paradise. Savor the wine, olive oil and food of the area! Taste cured meats, sausages and prosciutto di Norcia, followed by great pasta dishes. We will also enjoy pesce -perch from the Trasimeno Lake, as well as wild hare ragout and truffles. Cheeses from cow and sheep milk are best with the local "torta sul testo" bread, cooked on the griddle pan – all supplemented by one of the five indigenous olive oils. A feast for the eyes and the mouth, Umbria is here for you. If this has wetted your appetite, come with us to places like Orvieto, Amelia, Spoleto and Assisi. We stay in hand- picked hotels, learn to prepare and enjoy regional specialties, visit ancient monuments, art shows, and lovely wineries. There will be time to sit in an olive grove and learn about the harvest, while chatting with local residents, who tell us about their traditions. Fully immerse yourself in this seven day journey into Italian lifestyle and come away with a new perspective.