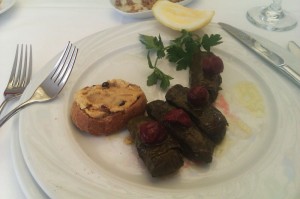 Well world, ready or not, here we come. After exploring Turkey's culture and flavors on or own, it is time to share these wonders with others. Epicurean Travel launched our first tour on the night of April 21st! After my first trip to Turkey, I could not have been more excited for the day to come. I was eager for the opportunity to return to and see again the wonderful places that I had visited and good friends that I had made. And I now also have the privilege of exploring new areas of Turkey and creating new memories with fellow Epicurean Travelers. Such an event could not be initiated with anything less than a mind-blowing dinner.
Once the group assembled that night in Istanbul, everyone became acquainted over an incredible dinner at a Greek-style seafood restaurant (although it would not be referred to as a "Greek" restaurant in Turkey). It is common on the west coast of Turkey, and in Istanbul in particular, for good restaurants to serve meze (Turkish appetizers) and fish. Most of these types of restaurants were initially managed by Greek owners or chefs, but are now for the most part known as Turkish seafood restaurants.
To help give our guests' palates a full orientation to what to expect, we sampled all of the restaurant's meze options. These dishes may be small in portion, but they certainly are BIG in flavor. We happily enjoyed a wide variety of meze ranging from various eggplant dishes to smoked and cured fishes. Each one was delicious, but the real stars of the meal were the tender calamari rings with a tartar sauce that was a revelation, made with walnuts, garlic and breadcrumbs rather than the less appealing mayonnaise and relish concoction back home; and the best octopus that any of us had ever eaten. The octopus was grilled with a subtle charcoal flavor and it was meaty, yet tender, and perfectly flavored.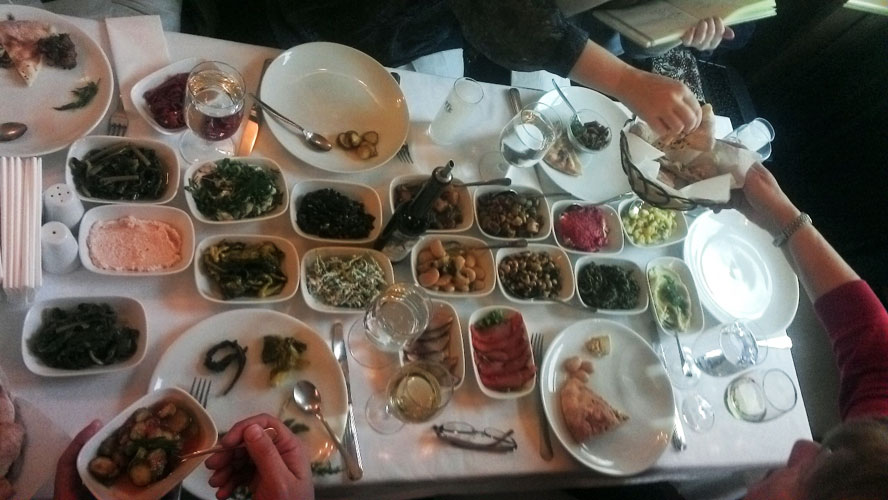 To continue our guests' gastronomic introduction, we each ordered from the selection of  freshly caught fish of the day. We then proceeded to a sweet finish. We nibbled on halva, delicious sweet finger casserole and warm sesame pudding. While halva is rather common, the sesame pudding and finger casserole (especially) are real treats and truly distinguish this seafood restaurant from many others. It just goes to show that not all seafood establishments are created equal. We had the extra privilege of sampling some cake made for a generous patron celebrating a birthday, which really suited the restaurant's warm atmosphere.
The cherry on the top (which I mean literally and figuratively) came with a complementary beverage offering. While most fish restaurants would serve you a standard mint liquor, this restaurant served a homemade cherry liquor from cherries harvested from their own garden. If that is not top class, I am not sure what is.
It was a fantastic way to start such a significant adventure. Despite leaving the restaurant completely full, it left us hungry for what was next!