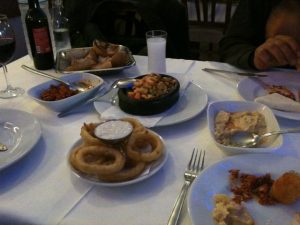 ISTANBUL (Oct. 22) — We arrive on a beautiful sunny day, perfect for starting our adventures in this historic city. Serkan, our guide, begins with a quick tour of the Old City of Istanbul. We stroll past the Hagia Sophia, the Blue Mosque, the Basilica Cistern, the Hippodrome of Constantinople, and parts of the Grand Bazaar.
Serkan explains that portions of the city date as far back as the ancient Roman and Byzantium Empires. It is incredible to see the relics of Constantinople against the contemporary backdrop of Istanbul, an ever-changing and evolving cultural hub.
Of course, we did not ignore our need for rejuvenation after a 10-hour flight. We wanted an early morning "java-jolt" with Turkish coffee, but quickly realized that there is a difference between Arabic and Turkish coffee and what we are used to at home. Beware … Turkish coffee is sipped and Arabic coffee is chewed … but maybe that is just our experience.  Also at the cafe was the opportunity to enjoy smoking a water pipe. We cannot attest to the caliber of the pipes we saw (it already had been a long day for us), but did notice that flavored tobaccos, such as apple, were offered.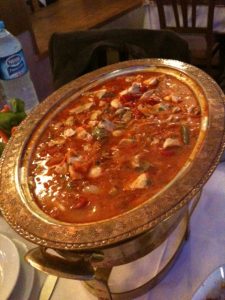 We enjoyed dinner at a great seafood restaurant, starting with a series of appetizers: hummus, chili sauce, guvec (shrimp with butter, tomato, chili sauce, and sweet peppers), a raw vegetable plate, and calamari rings the size of small saucers. If you have not started salivating yet, you should be. Our entree was sea bass, steamed served in a tomato based sauce with bell and sweet peppers, mushrooms, carrots, and parsley.
So, all in all, a great start to our trip!
Posts, in chronological order:
1  … 2 … 3  …  4 … 5 … 6 … 7 … 8 … 9
Introduction: Live from Istanbul
Upcoming (Our Itinerary)