EPHESUS (Oct. 27) — Today was another chance to visit ancient ruins. After the hotel's quaint breakfast, Berkan met us for another serious flashback to the past. We first visited Prienne. In its heyday, Prienne was located on the seashore and was a star of the Ionian cities. Today, the remains of the city are no longer by the sea due to shifting soil and sand, but we are compensated with views of marvelous landscapes  from its elevated position.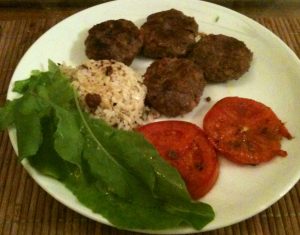 We took in the lavish scenery of the Aegean shores (where outlines of Greek Isles were visible) and passed cotton fields on our way to Miletus to see the remains of an amphitheater and a Byzantine fortress. The theatre, once used for plays, festivals and the oh-so gory gladiator battles, retains its initial feel. At the fortress, we followed Berkan's descriptions of life in ancient times and were able to envision the bathing rooms and gymnasiums that once stood there.  Then we walked over to the oldest mosque in Turkey. Built in 1404, it does not have the extraordinary tiles and paint work of the mosques that we had previously visited in Istanbul, but still possesses great beauty.
On our way to lunch we drove through the Meander Valley, within the lush Meander Delta. For lunch, we enjoyed a buffet of appetizers, selecting among options of local produce with yogurt or tomato sauces, couscous and rices, as well as chicken with potatoes. For our entree we enjoyed fried sea bream that went nicely with a squeeze of lemon. For dessert, a buffet of various fruits was offered.
After refueling, we went over to the Didyma, the largest Ionic Temple. As it was dedicated to the sun god Apollo, it never had a roof, but the grand walls that were built are still intact. Its original columns, however, did not fare so well. Some of them collapsed in a domino-like affect, providing for very interesting visuals and great photo ops. Walking around, we came across  large cracked stones portraying the head of Medusa, placed to protect the temple.
We then rode back to the hotel, continuing to pass charming country fields and enticing views of the sea.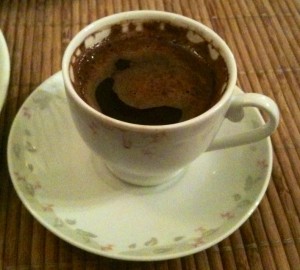 For dinner that night, we enjoyed cooked carrots with a native sweet potato in olive oil, baba ganoush, hummus, and fried eggplant with yogurt and tomato sauce. Our main dish was kafta (beef and lamb mixed meat balls), a very flavorful traditional local dish commonly served with rice. For dessert we gorged on fresh mandarins, grapes, and apples.
We capped off the night with some Turkish coffee by the fire.
Links:
Previous Day: A Journey in Time
Tour posts, in chronological order:
  1  … 2 … 3  …  4 … 5 … 6 … 7 … 8 … 9