EPHESUS/ISTANBUL (Oct. 29) — We arose and packed for our return to Istanbul to fly back home early the next day. After enjoying our final breakfast at the Ephesus Boutique — fresh produce, honey, jams, and all the fixings — we grabbed our bags and headed to the airport in Izmir, making a side trip to Kusadasi. We went through a local bazaar to find some evil eyes to bring back as gifts. It was no surprise that it was incredibly touristy, so we found what we wanted and moved along.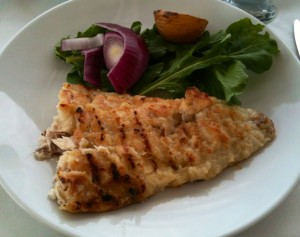 For lunch, Mustafa took us to a seafood restaurant favored by the locals, and beautifully situated right on the Aegean Sea. We sat outside and marveled at the outline of Samos, a Greek island, and the magnificent blues of the sea and sky. Whether or not the food was out of this world, the location and view alone was worth the stop. However, we did not need to bargain over scenery versus cuisine. Sometimes you really can have it all.
Our starters consisted of meaty barbecued red peppers, refreshing haydare (local organic yogurt with herbs), fried calamari that was airy and remarkably tender, and kareves (shrimp cooked in olive oil with chili). For our main course, Mustafa ordered for us a delicious grilled red snapper with fish that he was able to hand pick from a variety offered on ice. Needless to say, the locals know what they are doing.
When it was time, we left our scenic table to catch our flight. When Mustafa dropped us off and we waited in line to board our plane we were saying our farewells, bracing ourselves for the end of our great trip … or so we thought. We discovered once we landed back in Istanbul, that thanks to Hurricane Sandy, we now had two extra days to discover more of Istanbul and EAT! I guess someone, somewhere heard our overwhelmed declarations of "so much to do and so little time." Well, time we now have.
We arrived at our hotel and contentedly settled down for the night with the satisfaction of knowing we no longer needed to wake up at 3 a.m. for our flight. The possibilities are endless, and we now are getting some rest to take advantage of this unexpected change.
Tour posts, in chronological order:  1  … 2 … 3  …  4 … 5 … 6 … 7 … 8 … 9