ISTANBUL (Oct. 30) — We woke up to a beautiful sunny day filled with endless possibilities. Over the hotel's breakfast, we discussed our options for how to spend our day and where to please our stomachs. We transferred hotels from the Old City to one in the New City. It was time to better acquaint ourselves with the fast paced contemporary vibe it offers. We arrived at the new hotel, dropped off our bags, and reviewed our potential plans. Everything was up in the air, where were we to begin?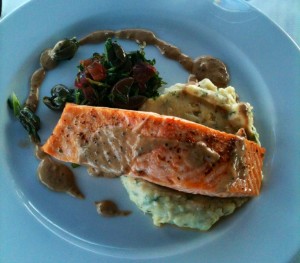 We decided to be adventurous and to find our way to Istiklal Caddesi, where thousands of people a day shop at high end stores and eat at various restaurants. Along the way we spotted a familiar sight, a restaurant that Serkan pointed out to us. The restaurant offers incredible panoramic views of all of the sides of Istanbul. The menu proved to be as widespread as the view, offering modern fusion cuisine. We selected a honey mustard glazed salmon with green olive salad and crab dill mashed potatoes and a pizza with tikka chicken, caramelized onions, red peppers, tomato and mozzarella cheese for our entrees. We heartily patted ourselves on the back for this last-minute find.
After lunch we decided to literally go up in the air. We ventured down to Galata Tower to get another aerial glimpse of the city. After waiting in a fairly long line we made our way to the top, along with what felt like half of the other tourists in Istanbul. It was a  tight squeeze on the two flights of spiral stairs and the tower's ledge. As a result, this is not something we would recommend to the claustrophobic or to Jimmy Stewart ("Vertigo").  The scenery was quite lovely; however, similar sights can be seen more comfortably in bars and restaurants located on rooftops or hotel top floors.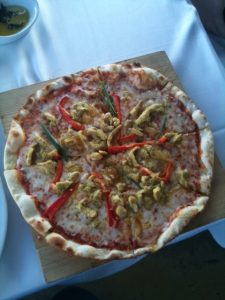 Once we made it back to terra firma, we wandered through a sea of people and shops until we got hungry for dinner. After taking a few side streets, we — by some miracle — found the restaurant we wanted. We were a little early for dinner, so we sat back and enjoyed a drink. A toast to successful navigation!
Before we knew it, our table was ready, and little did we know what surprise awaited us! Our dinner began with a complementary amuse bouche, a sweet cherry tomato with cheese, balsamic reduction and spinach. It was a small bite, but not a small flavor! For appetizers, we ordered duck pastrami with a apple froth, quail egg, pickled cucumber, and jasmine tea and a shrimp drizzled with a saffron bisque. With mixed feelings, we enjoyed an anise sorbet as a palate cleanser, as we prepared for the next course but regretted losing the flavors of our previous dishes.
For the main course we tried a black sea trout with black eyed pea salad and apple, and a beef tenderloin with potato puree and pickled apples. The entire experience was spectacular — the lovely night views, the pristine presentation of the dishes, the affable staff, and the food that was out of this world! It was so good, we contemplated returning the next night. But alas, our financial mindedness trumped our inner foodie, so we had moved on.
We returned to our hotel to settle down, feeling confident that we could make our way through the city with ease on our last day.
Our dinner photo gallery of tastes we'll remember and miss:
[nggallery id=4]
Tour posts, in chronological order:  1  … 2 … 3  …  4 … 5 … 6 … 7 … 8 … 9