Recently I was one of the lucky ones to participate on an Epicurean Travel tour and enjoy beautiful wares and incredible Instanbul seafood.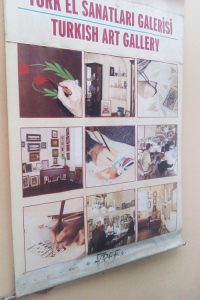 After our two-stage trip from Tampa, Fla. to Istanbul (there are no direct flights from Tampa) we checked into a plush hotel in the Old City section of Istanbul, then headed off for a mini-stroll down the cobblestone streets. All of our senses were immediately revived by all the fascinating sights and sounds. Store fronts housed exquisite Turkish carpets, pottery, tiles, garments & bags mingled with the delicious smells of spices, teas and flowers. Soon I was standing in the Hippodrome where chariots once raced & now home to towering obelisks more than 2,000 years old. A few steps later I was humbled while standing between two magnificent shrines, the Blue Mosque and the Hagia Sophia: I was in awe in front of these domed structural masterpieces which are separated by beautiful lawns.
We continued down another quaint cobblestone road to an artist's studio. A painter invited us to watch while he dropped paint into a bath of water and oil and, using only sticks, created a flower in the liquid. Next he dipped a sheet of paper into the bath and created a beautiful flowered painting with a marbled background. I regret not purchasing one of his works … but maybe I did this on purpose as one of the many reasons to return to Istanbul one day.
After we arrived back at the hotel we met the other intrepid travelers in our group and walked to a restaurant that looked like a charming old house. My oh my, what a feast of Instanbul seafood and more! First a warm and incredibly tender and delicious calamari sprinkled with crushed nuts was served. Multiple bowls and plates appeared next filled with every color of vegetable, from sautéed dandelion greens to bright red grilled peppers, plus cheeses, dips, and fish, all served with baskets of a tasty flat breads. Everything looked and tasted wonderful. The next course came, grilled octopus & calamari. Each moist and succulent bite made me wonder why I never tried octopus before — yum! I thought it was time for dessert but then came the main course, a perfectly grilled & flakey sea bass. It was too good to waste, so I ate that too.
A lip smacking sweet pudding & homemade cherry liqueur ended this unbelievable meal. Now this is my idea of Turkish delight and that was only the first day!