ISTANBUL (Oct. 31) — Our day began with settling our affairs for the flight home. After checking in and making sure we were confirmed for our trip, we grabbed some coffee and decided to explore Dolmabahçe Palace.
The palace grounds are beautifully landscaped and were particularly enjoyable to walk around on such a lovely day. Charming fountains, views of the Bosphorus, and peacocks were among the treats we discovered along our stroll. Out of a series of tours available, we chose to go on the official tour, which included a guided tour to most areas inside the palace. The palace is beautiful, with its incredibly lavish French baroque design (and the largest Tiffany crystal chandelier in the world), but the tour was a large group tour and we were quickly shuffled through. We unanimously agreed that the grounds were the best part.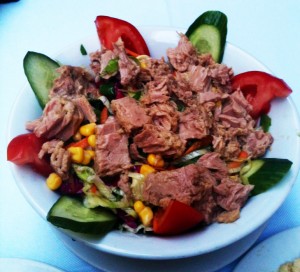 Feeling rather peckish, we returned to the Pera area for lunch where we discovered a rather hidden, yet quaint stretch of restaurants. We nibbled on hummus, eggplant with tomato sauce, and a tuna salad. We ended lunch with the irresistible taste of apple tea.
As if that was not enough, we decided to eat something sweet. We stumbled across a little bakery where we happily ate pistachio baklava and drank Turkish coffee.
To make room for dinner, we continued to walk around and window shop at our leisure.
Once we became familiar with the area and the evening was in full swing, we were ready for our last dinner in Istanbul.
We treated ourselves to another nice high-end restaurant. Its atmosphere offered elegance and sophistication while still remaining relaxed. We started with a complementary amuse bouche which was a potato ball in a delicate cream sauce. For starters we enjoyed an artichoke in olive oil with beetroot carpaccio, goat cheese and kadayif with pea pearls; and a swordfish and tuna tartar/pastrami with pickled vegetables and a lemon emulsion. Our entrees included duck breast with pomegranate infused couscous, carrots, potatoes and a quince sauce; and a beef filet with potato puree, mixed vegetables, and sweet bread. The plates were very aesthetically pleasing and palate-friendly.
Once more, we threw ourselves into the bustling street crowds as we made our way back to the hotel. As we reminisced over our trip we agreed that despite the similarities that Istanbul shares with cities such as New York (from its fast-paced crowd, non-stop 24-hour life style, shops, restaurants, and chestnut stands at every corner), Istanbul truly is a city of its own, with unique aspects that cannot be found elsewhere. It possesses a majestic and vibrant feel that complements the warm and inviting people. This, along with the cuisine and history, makes Istanbul a shining jewel, with a gleam that is sometimes overlooked. So with heavy hearts, we say so long for now and we excitedly look forward to our return. Until the next time, Turkey.
Tour posts, in chronological order:  1  … 2 … 3  …  4 … 5 … 6 … 7 … 8 … 9