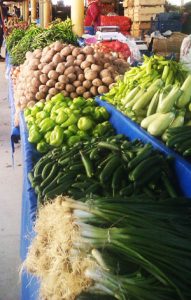 KUSADASI — Our culinary adventure began with an early morning visit to the market in the town of Söke.  Markets are held in different towns on different days and the Söke market, held on Wednesday, is very large.  Upon approaching it I felt as if I was descending into a large flea market, but if you push past the stalls with clothes, toys, and household items you get to a large, beautiful, covered open market where the vendors are both purveyors of fruits/vegetables and artists. As you can see, the arrangement of wares is amazing and enticing.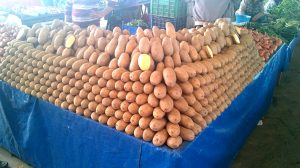 Our goal was to find all the fixings for the evening's dinner.  We began by selecting light green peppers of the right size and shape for stuffing with a succulent rice mixture.  Our host, Mustafa, explained how he uses different tomatoes for different purposes.  The cherry tomatoes are used as meze (appetizers) while the large, firm beauties are sliced and used as a side dish.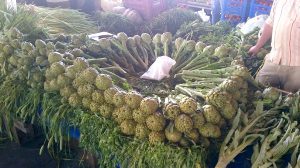 The medium round are cooked down for sauces.  The one thing to remember is that tomatoes are fruit — and these babies certainly are sweet and juicy like the best Georgia peach you ever bit into.
We bought cherry tomatoes, green peppers, onions, table tomatoes, red peppers, zucchini (courgette), strawberries, eggplant and cucumbers. Much of what we bought was from farms in southern  Turkey where spring is further along and the vegetables are ready to use.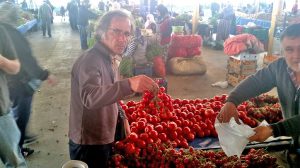 The sounds of shoppers selecting exactly which fruit or vegetable they want and vendors calling out greetings and quoting prices provided a musical background to browsing and sampling from the fresh harvest bounty.  I had the sweetest strawberries that I ever tasted. Mustafa knows just by looking whether strawberries are garden or greenhouse  grown (hint, you can't tell by the color). The aubergines in May are small and sweeter than they will be later in the year — perfect for mezze, but not for grilling. For grilling, Mustafa prefers the bigger and firmer variety.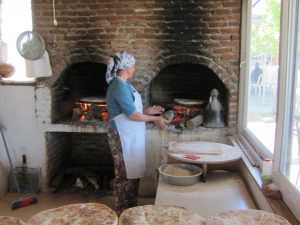 After loading up on more vegetables and fruit than we could possibly prepare (or so I thought at the time) we left for the fish market.  On the way to fish market we stopped at a roadside stand for fresh pomegranate juice and watched the timeless art of baking bazlama (large round bread loaves) in brick open fire ovens.  We bought a large round loaf for dinner. The sweet yeasty smell permeated the van as we made our way to fish market.
The fish market is right on the shores of the Aegean Sea in the resort city of of Kusadasi.  When selecting fish always choose fish with stiff bodies and clear eyes (I will refrain from making any obvious jokes here). We chose sea bream to grill over a wood fire. Next, we moved on to the meat market in Camlik where we picked up fresh lamb to BBQ. Then it was back to the hotel to pick lettuces and grape leaves from the garden to use in our food preparations.
The next adventure — cooking dinner.