EPHESUS (Oct. 25) — We arose early to catch a flight to Izmir – the closest airport to Ephesus. After a 45 minute flight, we drove to the Ephesus Boutique hotel owned by Mustafa (less than an hour drive). It is located high in the hills, allowing beautiful panoramic views of the area, and has a lovely garden filled with flowers, fruit and vegetables. Mustafa grows everything organically. His philosophy is simple: Use the freshest and best ingredients, and feature them in simple dishes.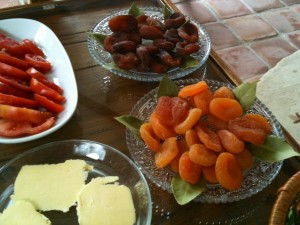 At breakfast, we ate produce from the garden and the freshest cheeses with honey. We were served pomegranate, quince, and apricot jams, along with olives, cherry tomatoes, cucumbers, dried apricots, buregg, scrambled or hard boiled eggs, and homemade bread. Purchased items were of a quality meeting Mustafa's strict standards. Such goods were goat, sheep, and cow's milk cheeses, and honey that was still on the comb (truly the best we've ever tried).
Lunch was comprised of various small dishes including cucumber and tomato salad, eggplant dolma (rice stuffed eggplant), lamb, menemen (tomatoes, peppers, and onions with eggs on top), marinated cauliflower, and baklava. Yet again, fresh and good quality ingredients + simplicity = Delicious. We are not mathematicians, but that is a formula we can remember and live by!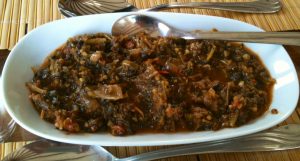 Later, we met Mustafa in his kitchen with his staff. Patiently, they demonstrated how to make a variety of dolmas (grape leaves stuffed with rice and a variety of produce ranging from eggplant to bell peppers), mücyerr (zucchini pancakes), kirartma (fried eggplant), and how to prepare lamb for a barbecue.
We enjoyed the fruits of our labor at dinner as the items we helped cook earlier were served along with a very tender and juicy lamb. It goes to show that a great meal does not require hours of work in the kitchen. So, with a satisfied appetite we ended the day relaxing by the fire.
(Photo Gallery)
[nggallery id=2]
Tour posts, in chronological order:  1  … 2 … 3  …  4 … 5 … 6 … 7 … 8 … 9